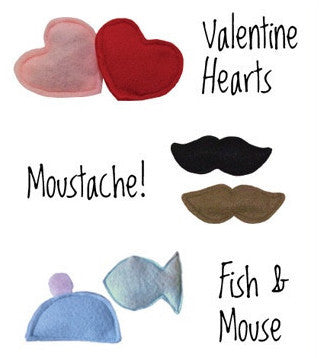 Wool Felt Catnip Toys
Now made with 100% Wool felt!

Guaranteed fun! Your cat will be meowing for more of these cute and fun Wool felt catnip toys. Eco-Pup catnip toys are made of soft 100% Wool felt and stuffed with our irresistible all-natural, locally grown catnip.

Each order package contains 2 toys:
- 1 black moustache with 1 brown moustache
- 1 grey mouse with 1 blue fish
- 1 pink heart with 1 red heart

Handmade with love for your best friend.

Please remember that no toy is indestructible, always supervise your pet when they are playing with toys.