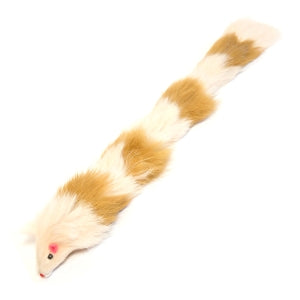 Brown/White Fur Weasel Toy
Cats have a strong hunting intent even while they live in the midst of humans. Bring home the weasel and satisfy the wilderness instincts in your cats without chaos. The weasel by Iconic Pet lets your cat free that pent-up energy and also keep your feline friend engaged for hours. It's easy to maintain and cats can just throw them around and keep themselves entertained. Give your cat this one of a kind toy to play with while you can have one of those picture perfect moments that you will cherish forever.

The Weasel is manufactured by Iconic Pet, creator of many high-quality pet products.
Dimensions (Length): 11.8" (30 cm)