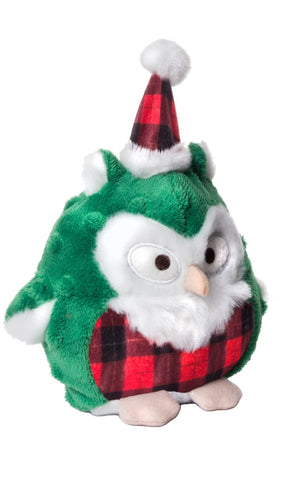 Howling Hoots Holiday Green
Cute and cuddly, Charming Pet's Howling Hoots plush dog toys are as pleasing for your puppy to play with as they are to look at. Stuffed with one big round squeaker inside, this lightweight squeaky dog toy is perfect for tossing and fetching to both large and small dogs, and is soft enough for a puppy's mouth too. The durable stuffed toy is a great alternative to a traditional bouncy dog ball to keep play time interesting.
INTERACTIVE PLAY: A perfect tossing and fetching dog ball, this lightweight plush puppy toy will add bounce to any pup's step and encourage your dog to chase, catch and retrieve, time after time.
SUPER SOFT: Made from soft and cozy plush material, this dog activity toy is safe and gentle on delicate puppy mouths during play time, and lightweight enough for even small dogs to carry.
CUTE OWL PLUSH: This stimulating dog toy's plush animal designs comes in 4 different colors. The adorable soft dog toy conceals minimal fluff inside – more fun and less mess than stuffed dog toys!
HOLIDAY EDITION: If your pup loves Howling Hoots, then this is the perfect gift for the holidays. Perfect as a stocking stuffer!