Bamboo Food Bowl for Cats
Another First From The Green Pet Shop!
Same sturdy construction as our proven bigger bowls only for our smaller friends. Plus, we have specially designed our water bowl so that water collects towards one end, making it easier for your pet to drink from. An added benifit for our senior or ailing pets. You can also use this bowl for food.
Our bowls are made from bamboo and cooked rice husks. All re-newable resources. 100% natural plant dye. Does not leach like plastic. You have to touch and feel it to believe it. Looks and feels like the strongest plastic bowl but without the drawbacks of plastic. Bonded together under extreme heat and pressure. Will last as long as any plastic bowl. Eco-friendly pet bowl is completely safe for your pet and good for the environment. Bowl is dishwasher safe. Biodegradable, made from all natural materials.
Strong & durable
Does not leach
Does not collect bacteria
Dishwasher safe
Fun colors
Safe for people pets planet
Fun colors! Both bowls are available in white and blue.
Bowls are interchangable for either food or water. We call the square bowl, "food" and the angled bowl, "water".
Food bowl is 3 x 5 x 1.5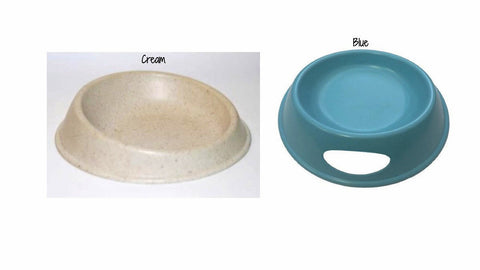 $ 9.00