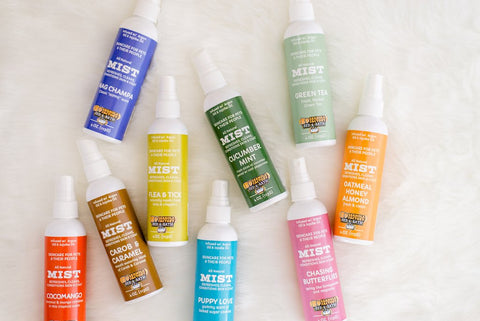 Flea & Tick - 4 oz Body MIST for dogs - cleans & deodorizers skin & coat
Skin care for pets and their people.  Naturally repels fleas, ticks, and chiggers.
After cleansing and moisturizing, it is essential to lock in moisture with this quick & simply step.  With superior ingredients and ease of application, just a few pumps of our amazing MIST will be the finishing touch to their skin care regime.  Our MISTS are gentle enough to use everyday with results that will keep them looking and smelling great.  Discover how to refresh, cleanse and condition your pets coat with these "natural to the skin" products.  May be used in between bathing to keep your pets coat looking healthy & clean.  
Available in several wonderful scents & are safe for both pets and their people!
WHAT MAKES THESE PRODUCTS GOOD FOR YOUR PET:
Essential Oils, Made w/ Aragan Oil, Infused w/ Kaolin Clay, No Mineral Oil, No Sulfates, No Parabens, No Artificial Emulsifiers, No Artificial Fragrances or Color, No Alcohol, No Animal Testing